14 March 2008
Not Just A Number *UPDATED*
I'm not sure how long it wil be there, or if it constitutes Fair Use, so I'm just going to link
to this
and say "Bravo! Well-played!!"
*UPDATE*
To heck with it. Maybe
Gabriel Malor
will stop by and let me know if commenting that the focus seems blurry to me and the font is a bit small, that constitutes Fair Use. Probably not since this is an update and the intent to critique the image is now suspect. If a copyright holder wants it down, email me and I'll take it down (I'll leave the link, you can deal with Engadget on your own)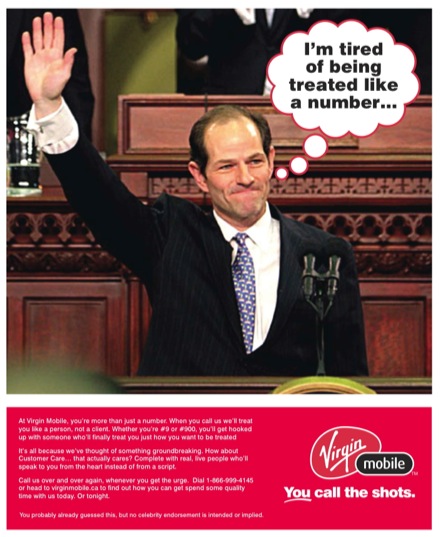 Posted by: Stashiu3 at 10:21:16 | Comments (2) | Add Comment
Post contains 111 words, total size 1 kb.
1
Wow... Read the text of the ad! Loads on innuendo.
Well played, Virgin Mobile. Well played.
And we'll ignore comments about whores and virgins for the moment.
Posted by: swj719 at 14 March 2008@15:51:17 (xNyOl)
2
Or "You call the shots."?
Posted by: Stashiu3 at 14 March 2008@16:08:48 (Q5ggV)
Comments are disabled. Post is locked.
Number of Unique Visits Since 08 March 2008
19kb generated in CPU 0.03, elapsed 0.0628 seconds.
59 queries taking 0.0446 seconds, 100 records returned.
Powered by Minx 1.1.6c-pink.