22 February 2008
Chelsea Clinton Stumps for Mom
Michelle Malkin over at Hot Air
treats this with the dignity I expect (I'm a huge MM fan!) from her. I really don't like it when partisans on either side bash someone's family. The fact that Chelsea is dutifully supportive of her mother's campaign is both a credit to herself, and her parents.
I don't know what Chelsea's personal political philosophies entail and I really don't care. She's on the stump for her mom, so reporting that is fair game. Everyone should take note of Michelle's lead on this and how to do it with class.
Posted by: Stashiu3 at 23:24:29 | No Comments | Add Comment
Post contains 101 words, total size 1 kb.
"Maverick" McCain's Media Mauling in Motion?
As
Patterico
noted,
Allah has been on a roll
with the good stuff.
As I noted earlier
, McCain is going to go from media darling to main dish at a feeding frenzy from now until November.

Good luck with that Senator.
Posted by: Stashiu3 at 22:53:00 | No Comments | Add Comment
Post contains 47 words, total size 1 kb.
Another Mahdi Army Ceasefire
Muqtada Al-Sadr has ordered his Mahdi Army militia to observe another
six-month ceasefire
in Iraq. Isn't this the same guy who was
indicted for murder
and then
hid in Iran
while his thugs got stomped by Coalition Forces?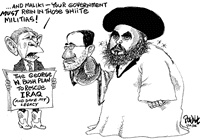 (Pic via
Wonkette
)
Thought so. Why aren't these things mentioned anymore, and why are we praising him in the AP article?
Posted by: Stashiu3 at 22:30:00 | No Comments | Add Comment
Post contains 63 words, total size 1 kb.
Newest Playlist
I have two Zune 30 media players and will be getting at least one Zune 80 sometime this year and give the 30GB Zunes to the kids. I love the Zune for my music and podcasts, as a portable radio, and have all my digital photographs saved for viewing as well. Video support is weak compared to some of the other players and the Zune software is a little clunky for some tasks (not anywhere near as bad as iTunes, but could stand some improvement). While I will probably do a more in-depth review of the Zune later, I just finished putting together another playlist and wanted to share a bit of that.
This one has 2,289 songs from a wide variety of artists and genres. When I put it on random play I haven't heard a song repeated yet. I confess that a lot of my listening is influenced by the kids, but in fairness, they like a lot of the stuff I grew up with too. So what kind of list has almost 2300 songs on it? Here is a partial list below the fold:
more...
Posted by: Stashiu3 at 22:00:38 | No Comments | Add Comment
Post contains 422 words, total size 3 kb.
21 February 2008
Getting There
Without food-delivery and waste-elimination systems in place,
this
stays in the "close-but-no-cigar" category.
Posted by: Stashiu3 at 00:37:00 | Comments (2) | Add Comment
Post contains 15 words, total size 1 kb.
Recognizing Adverse Drug Events
Via
Medscape
, a free subscription with loads of fine medical- and health-related articles.
Contrary to the public's common belief, all drugs are dangerous. Just because a drug is approved by the US Food and Drug Administration (FDA) does not mean that it won't cause problems; all usually do, from minor side effects to permanent disability, to life threats, and even death.

Unless you talk to a trial-lawyer of course. Then, the evil drug companies intentionally release dangerous chemicals disguised as medication just to watch the pain and suffering as they chuckle maniacally.
more...
Posted by: Stashiu3 at 00:06:00 | No Comments | Add Comment
Post contains 454 words, total size 5 kb.
20 February 2008
Still Want to Start Up the Cold War Again? Part II
From the
AP
:
WASHINGTON - A missile launched from a Navy ship successfully struck a dying U.S. spy satellite passing 130 miles over the Pacific on Wednesday, a defense official said.

This is what Putin threatened to restart the Cold War over? I don't think so. Right now we still don't know if the mission was accomplished, destroying the tank containing 1,000 pounds of a toxic fuel called hydrazine, but the fact that we can hit a satellite like this is amazing to me. We're still the big boy on the block and a cowardly bully like Putin shouldn't forget it.
Posted by: Stashiu3 at 23:34:14 | Comments (2) | Add Comment
Post contains 112 words, total size 1 kb.
Teh Gerbil Nation
On the blogroll, you'll see "
Teh Squeaky Wheel
" and are encouraged to check it out. It's like a house where everyone in the family can just walk in, take off their shoes, chat for a bit, and take off to continue their day. It's what the web should be like all over. It doesn't matter what your politics, religion, orientation, shoe size, or anything else may be... you're welcome at teh Wheel. (Most often, the word "the" is spelled "teh", along with many other endearing idiosyncrasies that you will pick up quickly. I'm still getting a sense of "Brenda's Dryer", but I was gone for a while... so there's that)
Some history... my first exposure to blogs was when Deb Frisch had her meltdown over at Protein Wisdom. I'm not going to link anything to her directly, but if you're not familiar with this psycho, Google and Wikipedia are good places to start. An exceptionally fine man called
Sinner
started "
Don't Hire Dr. Deborah Frisch
" to help the academic world avoid a huge mistake in letting this horrible excuse for a human being (and I don't say that lightly) come anywhere near children again.
more...
Posted by: Stashiu3 at 01:27:05 | Comments (5) | Add Comment
Post contains 346 words, total size 2 kb.
19 February 2008
Tuesday Music Video
I don't remember where I saw this first, it was sometime last year. Very funny and great song, even if I'm not a huge fan of the apparent sponsors. Mild content warning at some of the pantomime gestures. Nothing terrible, but some may be uncomfortable explaining to their boss or children what is meant (I wasn't... I showed my boss and my kids. They all laughed, hence the
mild
warning.)
Posted by: Stashiu3 at 13:58:00 | Comments (1) | Add Comment
Post contains 73 words, total size 1 kb.
Superdelegate Super Sale!!
And the hits just keep on coming in the Democratic Party primary race as
Karl from Protein Wisdom
posts about superdelegates receiving
"
campaign donations
" from the two remaining party candidates. It's no surprise to me that this is going to be a bitter fight with accusations flying back and forth constantly. It doesn't matter if these accusations are even true. If they are, it's just business as usual on the Democratic Party Campaign Trail. If they aren't, it's just business as usual on the... you get the idea.
(More below the fold including credits for the various parts making up this post.)
more...
Posted by: Stashiu3 at 04:15:00 | No Comments | Add Comment
Post contains 547 words, total size 4 kb.
Number of Unique Visits Since 08 March 2008
39kb generated in CPU 0.07, elapsed 0.1288 seconds.
62 queries taking 0.0841 seconds, 126 records returned.
Powered by Minx 1.1.6c-pink.