31 March 2008
Let Me Tell You Why Vytorin Was So Popular (Even Though It Doesn't Lower Heart Disease)
This is one of the
biggest problems
in medicine today and why some class-action lawsuits are justified. Working as a nurse in both the military and civilian health systems, I saw drug company representatives often. Very often. They schmoozed and courted doctors, pharmacists, and nurses. They always had a ton of goodies (pens, pencils, calculators, clocks, notepaper, keychains, books, calendars, etc...) along with sponsoring "teaching seminars". These educational opportunities were full lunches and dinners little more than live infomercials for whatever the drug-of-the-moment was.
But doctors were stunned to learn that Vytorin failed to improve heart disease even though it worked as intended to reduce three key risk factors.

Not surprisingly, this medicine would frequently be added to the formulary soon after. The military system had to put a draconian ethic system in place because the problem spiraled out of control. Every new drug to hit the market was making its way into the military treatment facilities, no matter what it cost. Even after these new rules were in place, it was a long time before pharmacists and doctors started having trouble working around the restrictions. One pharmacist I knew made sure the drug reps knew exactly how much they could spend per person without running afoul of the regulations... this was down to the penny. It was ten times worse in the civilian hospitals I worked.
The study was closely watched because Zetia and Vytorin have racked up $5 billion in sales despite limited proof of benefit. Two Congressional panels launched probes into why it took drugmakers nearly two years after the study's completion to release results.

I'm all for tort-reform but people need to remember why it became popular in the first place.
"It will be 2012 — ten years after the drug was introduced — before we know the answer," said Dr. Steven Nissen, a Cleveland Clinic cardiologist who has no role in the studies and has criticized the drugmakers over the one reported Sunday.

Posted by: Stashiu3 at 10:29:11 | Comments (2) | Add Comment
Post contains 344 words, total size 2 kb.
30 March 2008
Making The Case For Concealed-Carry On Campus
There is no better argument I can make supporting a student's right to protect themselves than to point out
this story
:
But Grady has been praised for preparing the campus police department. He boosted the number of training programs for officers and required they all be certified in first aid.
He had plans for various crisis scenarios, including an on-campus shooting. Grady had ordered his officers to go after a gunman immediately.
This police chief is superbly qualified and made sure his officers were too. Plans were in place and followed. The only people who could find fault with his performance would be anti-gun, anti-police moonbats who would say he went too far. As a matter of fact, he moved from his previous two positions for just that reason... resistance to what he believed were necessary minimums for getting the job done.
He has doubts and guilty feelings over losing five people that day, as any good man would question himself after such a tragedy. The fact is, he did everything he could to minimize the risk to his folks, then ran toward the sound of the guns when the murderer began killing innocents. He is a hero in every sense of the word.
Contrast this to what would have likely happened if students were allowed to carry their personal weapons for protection. Knowing the campus policy, instead of considering NIU a "target-rich environment", the killer may have been deterred from even beginning his attack. If he intended to die, as it appears, then even one student returning fire would likely have limited the killing. Even if you intend on dying, getting shot at tends to distract you from killing others. If that student were well-prepared, and/or joined by other students prepared to defend themselves, the killer might have been stopped before fatally shooting anybody.
It's past time to allow students to exercise their right of self-defense. If it can happen in a setting with Police Chief Grady there, it can happen anywhere there is a "gun-free" zone. When seconds count, help is only minutes away... unless you can help yourself.

Posted by: Stashiu3 at 23:02:30 | Comments (18) | Add Comment
Post contains 358 words, total size 2 kb.
Sergeant Keith Matthew Maupin -- R.I.P.
The father of Sergeant Matt Maupin says the Army has informed him his son's remains have
been identified
in Iraq.
Lt. Lee Packnett, an Army public affairs officer in Washington, confirmed that the Maupins were notified Sunday that their son's remains had been identified. Packnett said an official statement about the identification would be released Monday.
Matt Maupin was a 20-year-old private first class when he was captured April 9, 2004, after his fuel convoy, part of the 724th Transportation Company, was ambushed west of Baghdad.
Prayers and condolences for the family and friends of Sergeant Maupin. I sincerely hope his killers have already been sent to hell.
Posted by: Stashiu3 at 22:09:26 | No Comments | Add Comment
Post contains 114 words, total size 1 kb.
29 March 2008
Faith Healing
What do you do when the religious beliefs of parents endanger their children? I am a strong supporter of parental rights and the freedom to practice religion, but kids have rights too.

Madeline Neumann, 11, died Sunday the Weston home of an undiagnosed but treatable form of diabetes as her parents, Dale and Leilani Neumann, prayed for her to get better. Her mother said she never expected her daughter, whom she called Kara, to die.
The family believes in the Bible, which says healing comes from God, Leilani Neumann said.
If they believe in God and the Bible, where do they think medical knowledge comes from? If a child breaks a bone, is it a sin to put a cast on? The parents have three other children who are now staying with another relative while this is being investigated. I hope the investigation is thorough, but that won't bring Kara back.

Posted by: Stashiu3 at 18:04:11 | Comments (38) | Add Comment
Post contains 153 words, total size 1 kb.
28 March 2008
Sound Monitors Help Premature Babies
I love when simple things are used in new ways that make you say, "Dang! I should have thought of that!" This article just started me wondering about other technologies that have been around for decades might be useful in unique ways.
As decibels rise, the colors on the new monitoring system change from green to yellow to red, hushing chatty parents or doctors so the babies get the rest they need to develop.
It will be interesting to see some longevity studies on the efficacy of these monitors.
Posted by: Stashiu3 at 16:57:43 | Comments (1) | Add Comment
Post contains 94 words, total size 1 kb.
27 March 2008
What? Still A Positive Growth Quarter?
So the last quarter growth was down to 0.6% of GDP, which is much lower than the previous quarter's "sizzling" 4.9% growth.
The Commerce Department reported Thursday that the gross domestic product, or GDP, increased at a feeble 0.6 percent annual rate from October through December. The reading, unchanged from a previous estimate a month ago, provided stark evidence of just how much the economy has weakened. In the previous three months, the economy had a sizzling 4.9 percent growth rate.

The GDP measures the value of all goods and services produced in the United States and is the best barometer of economic health.
If last quarter's growth was so "sizzling", why were we getting the doom-and-gloom stories throughout the past year? Why should anyone doubt that the media has been spinning the economic news for the past 7 years? We still haven't had a single quarter of negative growth and the talk of a recession has been non-stop. It's disgusting how the media's hatred of the Bush administration has dominated the coverage. If this were a Democrat in office, this last quarter would have been the "blip" or "market" correction and seen as temporary. Since it's not, the media deciders inform us that it is just a portent of things to come.
That's not all however, down further in the article we get this:
In a second report, fewer people signed up for unemployment benefits last week, although that did not change the broader picture of a deteriorating job market. The Labor Department said jobless claims fell by 9,000 to 366,000, a better showing than many economists forecast. Still, unemployment is expected to rise this year given all the problems affecting the economy.
Unemployment goes down, so of course that means unemployment is going to go up. George Orwell ain't got nothing on the MSM.
Posted by: Stashiu3 at 19:11:47 | No Comments | Add Comment
Post contains 312 words, total size 2 kb.
26 March 2008
Thank Goodness For YouTube (Now)
I'm so glad the internet, and especially YouTube, didn't exist when I was a kid. My Mom was one of those who loved to take pictures of us making a mess of ourselves while eating, taking a bath, or any other generally embarrassing activity kids do just because they're kids. So if YouTube had been around, this could have been me:
Trust me... you wouldn't want to see me singing and dancing (sideways, because Mom had similar camera skills to this one) to "
It's Howdy-Doody Time
!" when the
Howdy Doody Show
came on. My wife hated it so I broke the habit long ago (but I still remember the words... heh)
Posted by: Stashiu3 at 02:59:37 | Comments (3) | Add Comment
Post contains 116 words, total size 1 kb.
Duties Of Jurors vs Duties Of Voters
In the
thread about McCain
twice almost switching over to the Democrats, DRJ brought up a great point:
Juries make decisions for all sorts of reasons - some logical, some cockamamie, and sometimes a little of both. However, in my experience, they almost always end up doing the right thing even if it's for the wrong reason. I look at voting the same way.

I spend so much time over at
Patterico's
because the quality of both the posts and the comments is so high (despite my own sometimes inane contributions). I thought about DRJ's comment for quite a while before responding. Afterwards, I decided that a new thread was probably the best avenue to get further opinions from the (extremely discerning) few people who come here semi-regularly, along with maybe some informed opinions from any casual passersby (hello and welcome). Comments are always welcomed and encouraged.
Here is what I
wrote back
:
more...
Posted by: Stashiu3 at 01:45:31 | Comments (9) | Add Comment
Post contains 616 words, total size 4 kb.
More Talk Of War
Hugo Chavez continues to accuse others of wanting war after he moved troops to his border with Colombia. Now, it's John McCain.


"McCain seems to be a man of war too. He said yesterday that Bush has been very tolerant with Chavez. He's gone to Iraq to offer more weapons and more dollars — and more war," Chavez said. "God save us — and beyond God, may the people of the United States save us from greater madness."

Meanwhile: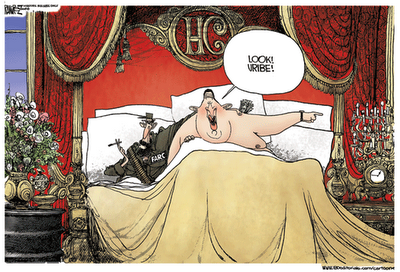 He should be placed on the State Department's list of nations that are supporters of terrorism. Period.

Posted by: Stashiu3 at 01:20:53 | No Comments | Add Comment
Post contains 100 words, total size 1 kb.
25 March 2008
Chavez Is Upset Again *Corrected*
Hugo Chavez is
upset again
with Columbia, this time because the Defense Minister made a public statement that their raid into Ecuador that killed the #2 leader of FARC was justified.
"For the love of god, President Uribe, don't allow this. The government of Colombia is in your hands, send a message to the spokesmen of war," he told a cheering crowd.

When I wrote about this back on the
7th of March
, I said that Chavez would look for any excuse to rekindle tensions as an excuse to invade Colombia. I haven't seen anything yet to make that seem less likely.
Ecuador's attorney general said the government was considering trying Colombian officials in international courts for their part in the attack.

Because the international courts are bastions of justice. Feh.
Posted by: Stashiu3 at 03:11:46 | Comments (4) | Add Comment
Post contains 136 words, total size 1 kb.
Number of Unique Visits Since 08 March 2008
107kb generated in CPU 0.0502, elapsed 0.1399 seconds.
65 queries taking 0.1038 seconds, 191 records returned.
Powered by Minx 1.1.6c-pink.